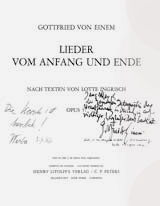 Just singing the notes of Das Marienleben is no easy matter and Ms. Marsh did that…with care and concern. Hers is the kind of big, classical-music soprano…Linda Hall was Ms. Marsh's scrupulous pianist… Listeners…(packed full, by the way)…obviously were grateful to hear this music…in the hands of caring professionals.

Paul Hindemith/Rainer Maria Rilke Das Marienleben at the Austrian Cultural Forum, NYC
The New York Times, Wednesday, December 22, 2004, by Bernard Holland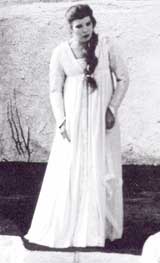 A well-planned program, which is complimented by suitable attire, both of which compliment the artist, is half the success.


Jane Marsh found the very necessary Mahler tone.
DIE PRESSE



Photos, Recital, Concert, Festivals,
World Premieres

Click on the photos below to see an enlarged view. Updates continual.


Concert of Stravinsky's Les Noces in the Festival of Russians with the Bayerische Rundfunk under Rafael Kubelik


"Sun" - world premiere by Ned Rorem, NY Philharmonic, Ancerl (Conductor)
Telegram: "Dearest Jane You are my Sun; Ned Rorem."


Fevronia in Rimsky Korsakov's Invisible City of Kitish at the Perugia Festivale di Sagra Umbra under Yuri Aronovitch


Recital Potpourri of Delicacies 20 songs and 20 international composers in Rome


Hindemith's Das Marienleben (Life of Maria) Jane Marsh and Pianist Linda Hall


Recital Moscow accepting flowers


Recital of Mahler's Des Knaben Wunderhorn Lieder, and World Premiere of von Einem's Lieder vom Anfang und Ende at the Carinthischer Sommer Festival Austria

Left to right: Jane Marsh (soprano), Gottfried von Einem (composer), Lotte Ingrisch (texts), Erik Werba (pianist)





Continues