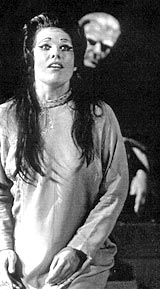 Mastery requires a constancy of focused vision.


Intellectual learning is the automatic pilot; combined with intuition, this can lead to artistic flight.


The limpid voiced Jane Marsh sings Puccini reminiscent of Tebaldi.
THE LOS ANGELES TIMES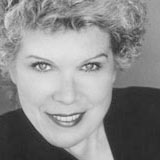 Jane Marsh has been described as a "Universally Brilliant Singer".
Born in San Francisco and a Graduate of Oberlin College/Conservatory, she was invited by the White House to represent the U.S. in the International Tchaikovsky Competition in Moscow, and was the first singer ever to win the Gold Medal in that competition.
Debut in opera in Europe: Spoleto, Italy (Desdemona in Verdi's Otello) at the FESTIVAL OF TWO WORLDS, under Thomas Schippers (conductor-director). Debut in opera in the USA: Pamina in Mozart's Die Zauberflöte with the San Francisco Opera. Many further roles sung in Italy and San Francisco. Operas and concerts sung in the USA and Europe with conductors, such as: Leinsdorf, Ormandy, Maazel, Pritchard, Patané, Kubelik, Matacic, Aronowitch, von Karajan, Blomstedt, Klobucar, Böhm, Albrecht, Ozawa, Plasson, Bernstein, Schippers, Slatkin, Gui, Molinari-Pradelli, Khaikin, Erede, Zinman, Frübeck de Burgos, Zagrosek, Stein, Kubelik, Ancerl, Neumann.
Recipient of the New York Handel - Medaille (Leontyne Price and Maria Callas were awarded this) for special and exceptional contribution to the world of music: Presidential Award from White House, Washington, D.C.; U.S. News and World Reports Achievement Award; Mademoiselle Magazine's Special Achievement Award; 4-H High Achievement Award, Time/Life Award, Keys to cities of San Francisco and New York.
Engagement at the opera house in Düsseldorf. Guest appearances at La Fenice (Venice), San Carlo (Naples), Trieste, Parma, Palermo, Turin, Rome, Florence, Milano, and all the major opera centers of Italy; the Munich, Hamburg and Vienna State Opera Companies; West and East Berlin opera houses, Dresden, Amsterdam, Madrid in well known roles, such as Mozart's Fiordiligi (Così fan tutte), the Countess (Figaro), Donna Elvira and Donna Anna (Don Giovanni), Elettra (Idomeneo), Vitellia in (Clemenza di Tito); Bellini's Norma; Verdi roles, such as: Violetta (La Traviata), Elisabetta (Don Carlo), Amelia (Simon Boccanegra), Desdemona (Otello), Leonora (La Forza del Destino), Abigaille (Nabucco), Lady Macbeth (Macbeth); Wagner and Strauss roles, such as: Sieglinde (Die Walküre), Daphne, Liebe der Danae (Danae), Marschallin (Der Rosenkavalier); Tchaikovsky's Tatyana (Eugene Onegin), Lisa (Pique Dame), Johanna (Maid of Orleans), title role in Rimsky Korsakov's Invisible City of Kitisch and the Maiden Fevronia; not to mention the numerous unknown roles created, many for radio.
Guest at international festivals in London, Perugia (Sagra Umbra), Florence (Maggio Musicale), Verona (Verdi Requiem, Liu Turandot), USA (New York, Detroit, Worchester Festival) Ossiach (Carinthischer Sommer Festival), Steirischer Herbst (Graz), Bruckner Festival in Linz. In Salzburg, at the Salzburg Festival, Mozart's Die Zauberflöte and Don Giovanni, Verdi's Requiem, under Herbert von Karajan, as well as Carl Orff's World Premiere of De Temporum Fine Comoedia, also under von Karajan, Missa Solemnis (Beethoven) and Britten's War Requiem, Otmar Schoeck's Pentisilea, under Gerd Albrecht.
Appeared on television in the USA: with satirist Art Buchwald in Washington D.C., Ed Sullivan in New York. Variety shows from Hollywood with Bing Crosby, Andy Williams, Red Skelton, Danny Kaye. Live from Tanglewood Festival, a concert with Boston Symphony and conductor Erich Leinsdorf- Eugene Onegin (Tchaikovsky) and Aida (Verdi).
International European TV and radio - appearances and recordings: Italy (RAI), Austria (ORF), Germany (WDR, NDR, Bayerischer Rundfunk), London (BBC), Dutch, Spanish and Scandinavian radio and TV – Networks as Guest Artist and Show – Moderator.
Recordings with RCA Victor, Deutsche Grammophon, Melodia, Stil, ORF, Opera D'Oro, Orfeus, iTunes, Amazon, Rhapsody.
World Premieres: Rorem song cycle – NY Philharmonic (Neumann); von Einem song cycles – Erich Werba, Gerd Ohlssen (accompanists), ORF Orchestra, Vienna Symphony (Wahlberg); Orff Opera – WDR Symphony Orchestra, Bayerische Rundfunk (von Karajan, Kubelik).
Overwhelming success as Handel stylist in such roles as: Cleopatra (Giulio Cesare), Semele, Alcina, Deidamia, in Great Britain, Germany, Italy, U.S.A.
Also much success as Lieder singer and Lied coach: Ms. Marsh has sung international Lieder recitals throughout Europe, South Africa and parts of the USA. Such programs as: Rossini/Poulenc/DeFalla, Tchaikovsky/Rachmaninoff, Schubert/Schumann, complete Strauss and complete Wolf programs, Hindemith's Marienleben, Potpourri of Delicacies (20 songs/20 composers), American Songs & Encores; programs using themes, such as: "Great Women in History", "Goethe", "Christmas" (from famous composers); Ms. Marsh also introduced "Super Titles" for the first time into the concert hall. She introduced the lush Joseph Marx Italienisches Liederbuch to New York audiences for the first time in December of 2006. These, the remaining poems from Paul von Heyse not used by Hugo Wolf for his Italienisches Liederbuch.
A particularly wide range of Opera, Concert, Oratorio, and Lieder is covered by this artist. She also conducts Master Classes, a result of which has led to much success as an Interpretation Coach and Advisor to singers launching new careers and/or new images to their careers.
Ms. Marsh is also a Lecturer and a Judge for vocal competitions, is often Mistress of Ceremonies, and takes part on advisory committees for international competitions. She translates program texts, has written a book of anecdotes and three musical anthologies on the themes of Advent & Christmas Songs, and Funerals and Sacred Music, and Easter and Lent. The first of which was published in September of 2008 by Oxford University Press, entitled Spirit be joyful.
Ms. Marsh was added to the Metropolitan Opera Guild's Lectures and Community Programs Lecturer and Master Teacher Roster in 2007, and has lectured on diverse themes including Mozart's women and the classical era; bel canto composers, works and style; Verdi works and style; Puccini and Versimo style; Wagner works and style; and Strauss' women and singing the roles. In addition to her lectures, she has given master classes focusing on themes of Verdi, Strauss, Bel Canto, and presented a Russian Operatic Repertoire class and a Recital Programming class in the 2010-2011 season. She also launched the Guild's Summer Series on May 19, with a four a part series on Puccini Death Scenes, which was repeated in December 2011.
Ms. Marsh offers an interestingly themed class at the Guild in March 2012 on, Creating the Role of Lady Macbeth. Ms. Marsh also recently lectured as well for the Metropolitan Opera, in regard to its upcoming HD production of Rossini's Comte Ory, and also in March, 2012 will branch out to New York's CUNY Graduate Center for a recital and master class of, Opera Composers in Song. In addition to her lecture and master class facilitation, Ms. Marsh is Artistic Consultant for the Guild's Masterly Singing Series, Mock Audition and Panel discussions, and professional development workshops and classes for young and emerging singers.
Visit www.janemarsh.com, Facebook, and Linkedin for information and insight.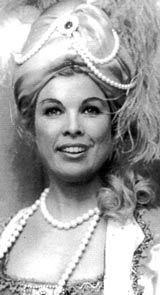 Part of establishing a career house is to think, at the foundation, of the goals involved, and understand when to commence planning.


In the middle of an aria, applause is often ones greatest soul mate, in that it enables one to rest and oxygenate oneself, in order to sail to the end.


The beautiful voiced Jane Marsh sang with elegance and powerful agility.
WASHINGTON POST
resume


TELEVISION IN USA
Johnny Carson Show - Musical Theater / Opera
Mike Douglas Show - Musical Theater / Opera
Merv Griffin Show - Musical Theater
Red Skelton Show - Musical Theater / Opera
Hollywood Palace - Opera
Hollywood Christmas Special - Christmas Arrangements
Bell Telephone Hour (Tanglewood) - Opera

TELEVISION IN EUROPE
East Berlin Staatsoper Special (Germany) —Opera
Hermann Prey Show (Munich) - Opera
Marcel Prawy Show (Vienna) - Opera / Discussion
Scenes and Monologues (BBC London) - Opera, Songs
Verdi "Otello" (BBC London) - Commentary / Opera

VOICEOVER
Documentary
"Sports Racing and Toy Cars" - Lowell / Skarda Associates

GUEST APPEARANCES AT WORLD'S MAJOR INTERNATIONAL CENTERS AND FESTIVALS
Opera
Major works: Baroque, Bel Canto, Mozart ,Czech, Russian, Strauss, Verdi, and Wagner, Modern/Contemporary

Oratorio
Major works: Bach Beethoven, Brahms, Britten, Bruckner, Dvorak, Handel, Mahler, Mendelssohn, Mozart, Strauss, Verdi, Wagner, Modern/Contemporary

Recitals
Programs: Mahler, Hindemith, Rossini / Poulenc / de Falla, Schubert / Schumann, Strauss, Tchaikovsky/Rachmaninoff, Wolf
Themes: Christmas, Great Women in History, Life of Maria, Spanish Songbook, Popouri of Delicacies

Recordings
Radio Productions: Austria, Britain, Germany, Holland, Italy, Scandinavia, Spain, and Russia
Records: Deutsche Grammophon, Melodia, ORF, RCA, Stil,
Opera D'Oro, Orfeus

AWARDS
New York Handel Medaille (New York's highest honor, for Special Contribution to Music World)
International Tchaikovsky Competition (First Singer to win Gold Medal in voice)
Presidential Award from White House
US World Achievement Award
Time / Life Merit Award
Mademoiselle Magazine Special Merit Award
Key to New York City
Key to San Francisco

TRAINING
Singing: Oberlin College / Conservatory
Acting: Elisabeth Holloway School

SPECIAL SKILLS / INTERESTS
Languages: German, Italian, French, and Russian . . All dialects
Sports: Horses, Swimming, Skiing
Body Language: Movement on Stage
WRITING: Cookbook, Anecdotes, Translations (multilingual)
ANTHOLOGIES: Encores, Christmas
MASTER CLASSES (Opera / Songs)
New York, San Francisco, Los Angeles, Siena, Palermo, Nice, Como, Rome, Geneva, Klagenfurt, Zürich, Dortmund, Düsseldorf

LECTURER & LECTURES: San Francisco State University, Santa Rosa State College, Mannes College, Marymount College, Columbia University, Juilliard School, Opera Index, Inc Vocal Competition Yearly Lecture Series, NYC, Metropolitan Opera Lectures

MEMBER; SAG, AGMA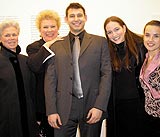 Each vocal category has it's own longevity, with few exceptions.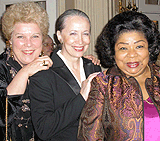 master classes


Master Classes, in Opera & Song Repertoire, given in:
New York, San Francisco, Santa Rosa, Los Angeles, Philadelphia, Siena, Palermo, Como, Rome, Klagenfurt, Düsseldorf, Cologne, London, Zürich

Themes:
Advent & Christmas Delicacies-English, French, German, Italian, Russian
Opera from French & Italian Baroque to Verdi & Wagner & Beyond
Mozart & Salieri Showcase & Comparison-Italian, German, French
Mozart Da Ponte Opera & Lieder-Italian, German, French
Mozart Operas & Songs-Italian, German, French
Wolf Lieder-Spanisches Liederbuch-German
Wolf Lieder-Mörike, Italienisches Liederbuch, Goethe, Mixed Poets-German
Hindemith-Das Marienleben-German
Mahler Lieder-Des Knaben Wunderhorn-German
Bel Canto & Early Verdi Operas-Italian
Schubert Goethe Lieder-German
Schumann-Fantasy Requirement-German
Strauss Operas & Lieder-German
Tchaikovsky Children's Songs & Operas-Russian
Building a Career in Opera (Including Reinvention)

---
"Master Classes are quantity and quality in a very short time, so cutting to the chase is important. I enjoy the challenge of getting results quickly, without trespassing on vocal technical territory-not requested in a normal Master Class, which encompasses many aspects-unless it's a Master Class solely in Vocal Technique."
---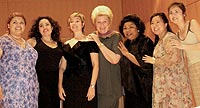 Jane Marsh and Martina Arroyo with singers from the Martina Arroyo Foundation Master Class Summer Series inauguration, conducted by Jane Marsh, July 2, 2005, at the CUNY Graduate Center NYC